Mo'Nique is back, baby! The Oscar-winning actress is giving fans a first look at her upcoming Netflix stand-up special, My Name Is Mo'Nique. On Wednesday, the streamer released a video taking fans behind the scenes of the original comedy special.
"Why did I title this special My Name Is Mo'Nique? I give y'all my word, after 72 minutes, y'all gon' know why this s**t is called My Name Is Mo'Nique," the actress says in the teaser with a smile. "Y'all might say, 'Damn, we didn't know we was gonna find out all that!' Yes, my name is Mo'Nique. This one right here is personal."
"When you walk away from this one, when you've turned your TV off from this one, you'll say, 'Now we understand that woman,'" she continues. "For 32 years, I have been funny, and I'm grateful for that gift. But this show right here really allows you to understand why I swing like I swing… There are things I'm going to say in this comedy special that I thought I would take to my grave."
The Parkers star shares her gratitude for her lengthy career and says she wants her supporters to connect with her on a deeper level.
"Mo'Nique is a legend. She stood on her claims to being the great Mo'Nique that she is," LGBT activist Ts Madison says on camera.
"This makes me so happy to see! Mo'Nique is such a beautiful soul and inspiration," another fan exclaims. "I can't wait to see this! This special was long overdue! Love you, Mo'Nique!"
Directed by L. Frazier and executive produced by Mo'Nique and her husband, Sidney Hicks, My Name Is Mo'Nique will balance comedy with insights about the comedian's life and upbringing in Baltimore. The special was shot on Oct. 29 at Georgia State University's Rialto Center for the Arts.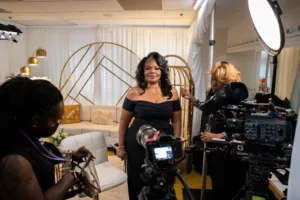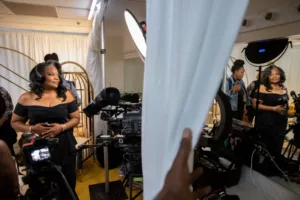 "Mo'Nique delivers a career-defining, powerhouse stand-up performance in her unprecedented return to the stage," the synopsis reads. "Filled with laugh-till-you-cry stories as well as soul-bearing emotion, Mo'Nique promises that by the end of the show, you will understand why she is the way she is, and true to form, she delivers. From the mean streets of Baltimore and remembering her Grandma Mimi's warnings about men, to why she 'ACCEPTS' the sometimes-harsh realities that come with life, Mo'Nique with her unique brand of candor, fearlessness, and humor reveals all of herself, and leaves nothing on the table."
The comedian announced she would be shooting a fresh original comedy special for the streamer back in July. In a video posted to the streamer's Twitter account and the Strong Black Lead initiative account, the 54-year-old told fans that she is "so excited to share that I'll be shooting my first Netflix comedy special."
She also reminded viewers that she will be reuniting with friend and director Lee Daniels for the Netflix film The Deliverance. "You won't wanna miss either of them, so y'all stay tuned," the GRAMMY nominee continued. "Thank y'all my sweet babies. I love us for real."
My Name Is Mo'Nique premieres April 4 on Netflix.